Looking back, I remember deciding when I submitted my application last year that if I had the chance to come to Japan, I wanted to learn kyudou (Japanese archery). I would like to say that actually being here and being actively involved in a kyudou group is different from what I expected, but the truth is I never really had any expectations. It was just my community project, after all. However, kyudou has in many ways defined my experience here in Japan.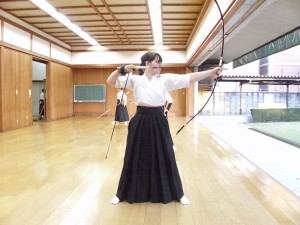 Perhaps most importantly, kyudou club was one of the few places in Japan where I felt like I really belonged. It is easy to feel like a gaijin (foreigner) in Japan, in part because one clearly looks different, but in greater part because, in my case, I understood only around half of what was said to me and closer to a tenth of the cultural concepts underlying Japanese life. In my kyudou club, though, before I was a foreigner, I was a student. If the rigorous traditions of the sport seemed alien to me, they were strange to the Japanese students as well. Moreover, the more I saw of those rigorous traditions the more I realized I was seeing an older framework on which the entire society appeared to be based. Having the uniform meant expressing a certain level of commitment, and by extension, truly entering the club. Once a part of the club, one's education became the responsibility of all of its members, and so I was taught to bow properly, give greetings, excuse myself, and so forth. The deeper I delved into kyudou, the more life outside of the sport made sense.
The structure of the club itself also uniquely gave it a special place in my life. It consisted in large part of people older than me, middle aged or slightly older, with a few younger individuals who largely came in the evenings towards the end of my stay, and the sensei (teacher). Perhaps for this reason and since I inevitably knew no one's name, I was mostly called ojō-san, meaning young lady. Foreigners looking in on Japanese society tend to use the word "family" to describe the various social organizations, and I would apply the same word here without hesitation. We were in many ways a family. When I first wore my kyudou uniform, most people came to congratulate me on the fact that it suited me well. Afterwards, they would occasionally fix me if I came in with my collar mussed or some tie misplaced, and took great glee in telling me to bicycle home without changing because "all the young women in the club do it that way."
Moreover, their attitudes towards my quirks and successes were those of a family. The women tittered when I put on my knee boots beneath my hakama, and everyone together found their daily amusement in watching me drag five-minute conversations into thirty-minute ones due to a variety of comical misunderstandings. Everyone watched when I fired my first arrow at the outdoor targets, and everyone managed to somehow hold their laughter until I finished the entire ceremony after my arrow rebounded off of the roof nearly the entire 150 m back to the stage. Finding that I had a tendency to stuff my clothes into a paper bag at the end of the day, sensei found me a suitable cloth to bundle them into. Indeed, whenever I lack something, someone tends to show up with it in hand, and even now I worry that she will next show up with a pair of traditional sandals (I insist on wearing flip-flops).
I would like to conclude with some advice, perhaps, to anyone else who thinks they might be interested in kyudou; throw yourself in head first. I, being the oddball that I am, wore my uniform to school, and even added a kimono beneath it just for fun. I was embarrassed and nervous at first, but I was also proud. Learning Kyudou was never just about learning to hit a target with a bow and arrow; it was about the form, the mindset, and the people whom I stood beside as I released my arrows. I frequently stayed late to practice afterward when I could, since the stage cleared and the club quieted down as darkness fell. At that point I could relax before heading home for the night, and the sound of snapping arrow strings and nighttime insects will forever color my thoughts of the long winter evenings in Japan.