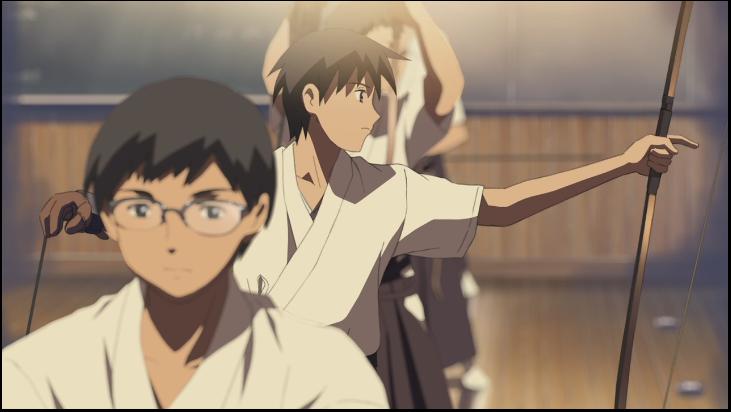 Kyuudou, as a sport, is a rather peculiar one. It doesn't really strive for perfect accuracy and precision (unlike its western counterpart, archery). Instead, it is intensely focused on being able to maintain a perfect form, going through a set of 8 steps (called the hassetsu) while maintaining a very rigid posture. The "sport" of Kyuudou has a huge emphasis on self-discipline, but it does not have an end goal like "getting the highest score" or "being the most accurate". Or at least, that's my impression of Kyuudou after doing it for the past few months.
The basic tenet of Kyuudou seems to be "self-improvement", where you pretty much must discipline yourself to follow those 8 steps that are so vital to Kyuudou. And with no real end goal (like a score, etc), the only real motivation for improvement is your own desire to do so. That, in itself, is a rather refreshing difference from most sports that I do play (basketball, skiing, snowboarding, etc). There's no real standard you need to compare yourself, you don't need to get particularly skilled or accurate, you simply need a desire to improve your Kyuudou abilities in a way you see fit. While the hassetsu is quite regimented and strict, at the same time it's rather freeing due to how you can define your own vision of what you want Kyuudou to be.
With that being said, I don't find Kyuudou particularly fun or exuberating. Rather, it gives me time to simply focus on something other than the chaos of real life and student assignments, and that shift in focus is a blessing during times of stress. You sort of just forget about the ongoing world around you, and focus on the target in front of your face. You temporarily forget about that paper due in a week, or a test the next day, or ongoing drama amongst your friends, etc. All that matters is that target, and whether you can hit it. Yea, I did talk about how, unlike archery, there aren't really any defined set goals in Kyuudou. But mine is being able to hit the target where I want it to, so in a sense, my goals in Kyuudou align with what an archery practitioner may strive for. With enough practice, will I ever reach my goal? Who knows, but if I ever do, I know that it was a goal I set for myself.