For my CIP in Fall 2013, I chose to take private koto lessons. Naturally, I've learned a lot. The point of the CIP to begin with is to involve yourself in the Japanese community, hopefully learn some keigo and Japanese culture, and have fun in the mean time. I can say without hesitation that I have been enjoying my lessons. Like any other instrument I've played, there is a learning curve. You have to learn the correct posture, positions for you hands, musical notation, the list goes on. When you do something new, you naturally make mistakes, so you probably get frustrated from time to time. Put that pressure on top of learning that new skill in a different language and having to explain what you don't understand in that same language. Oh, and don't forget to use keigo! Despite the pressures, I have learned more than I had originally anticipated.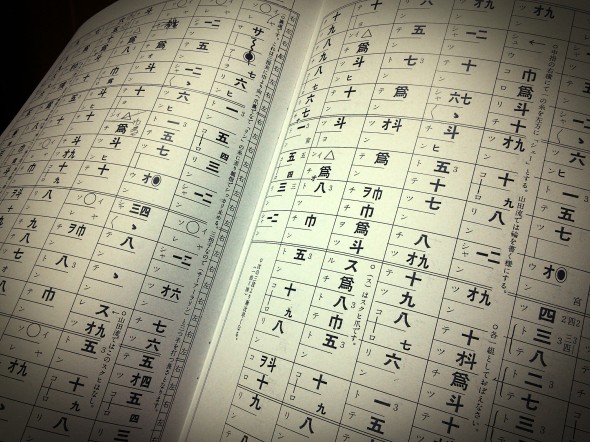 Sheet music for the song I'm currently learning. Reading music vertically instead of horizontally is the hardest hurdle for me to jump over at the moment.
More than anything, it's only too easy to create a list of all the faux pas I've made in one semester and how to not repeat them in the future. For instance, I spent the first few weeks being a regular Floridian and wearing flip-flops to my lessons. It was hot outside! The problem was that my lessons are held at my teacher's house, in a washitsu. It hadn't occurred to me that by not wearing socks, my dirty feet were seen as a social taboo in the traditional setting of koto lessons. Noda-sensei never said a thing, but I was mortified when I found out from someone else that what I had been doing was quite incorrect. And up until a few weeks ago, I had been cheerfully saying, 「お疲れさま!」after Noda-sensei said it to me. I learned not to do that after a linguistics class in which we discussed that is just not something you say to a teacher. Even after I feel like I've learned so much, every week it seems I find something else to correct!
However, that in of itself is rewarding, because at the next lesson, I can walk in confidently, amassing all of the formalities and aisatsu I've accumulated over the semester. I can return the sheet music my teacher and know how to politely thank her for lending it to me. I can attend her concert and know to bring an omiyage in congratulations. I can laugh when I get lost in the unfamiliar sheet music and ask to start a passage over, and it's comforting when she laughs too, and agrees. It was difficult doing a CIP where I had to solely communicate my questions and such in a language that I'm still learning, but through these lessons, I come into contact with an elegant side of Japanese culture that I would not have touched otherwise. I'm looking forward to continuing this immersion next semester, while learning more How-Not-to-Be-Act-Like-a-Gaijin pointers as well as beautiful music.