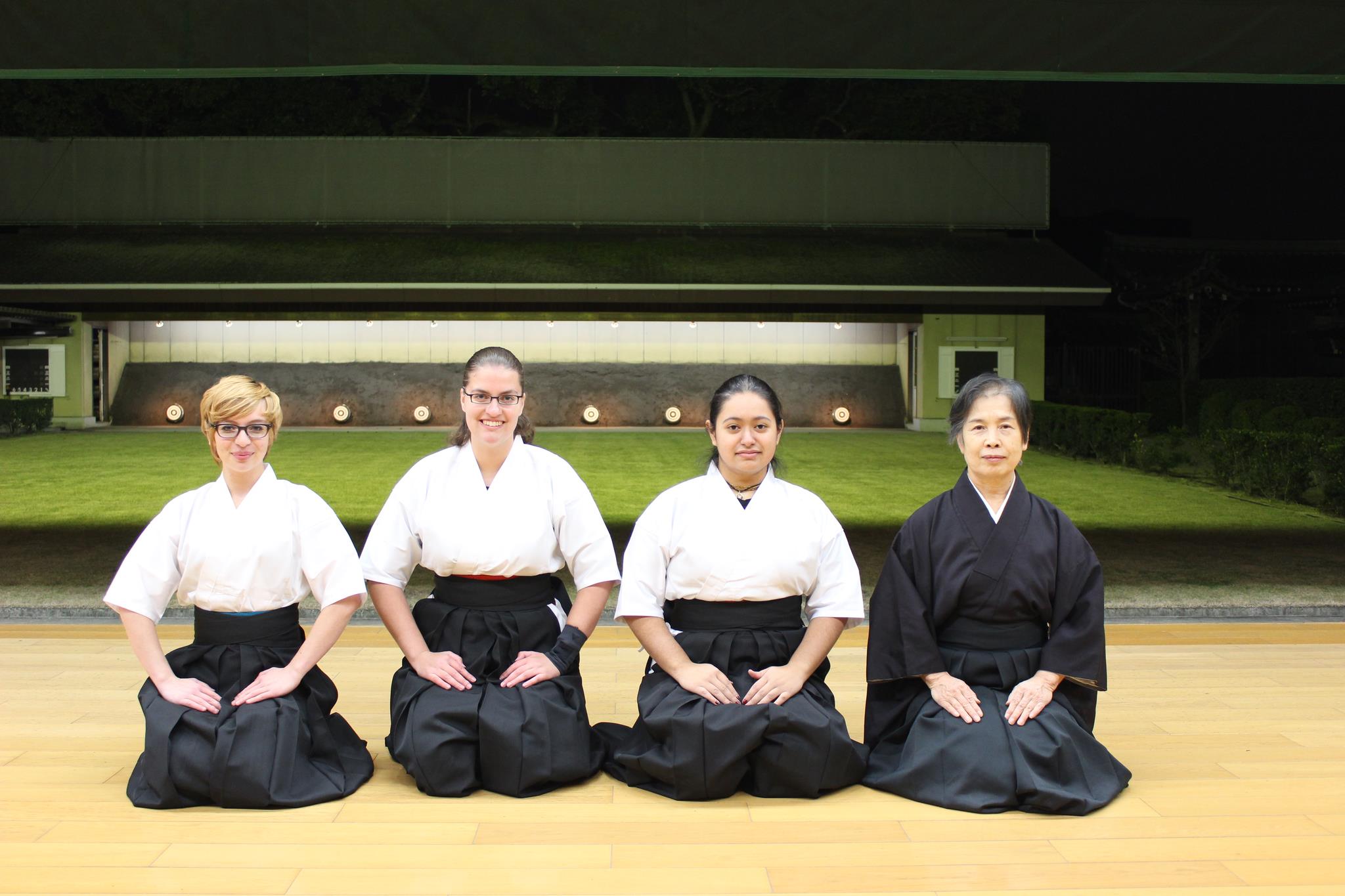 Before applying for KCJS, I read up on the program parameters on the KCJS website.  Upon reading about the CIP assignment, I knew that I wanted to do kyudou because I had a previous interest in the martial art.  Initially I had been concerned that I would not be able to do it because I am very petite young woman and was without any form of archery experience.  Nevertheless, I pursued kyudou as my CIP, and began practicing every Monday and Thursday at the Kyoto Budou Center.
When I first entered the Budou Center's kyudou dojo, I was pleasantly surprised to find that most of the archers were women around my size (though clearly much stronger than me from their years of practice).  Our teacher Kawaguchi-sensei herself is a sprightly and strong older woman with a commanding presence.  That is not to say that she was cold or unapproachable; on the contrary, she has been so kind and patient with us over the past few months, as have the other archers at the dojo.
Although practices are usually very independent, Kawaguchi-sensei and occasionally the other archers will offer tips and corrections to our postures.  Because kyudou is so ritualized, requiring one to repeat the same pattern of movements before every shot is fired, it is crucial to correct one's movements before they become too deeply ingrained to be fixed.  I had very little upper body strength before starting kyudou here, so it took almost three months before I was strong enough and good enough to be allowed to move to a larger, heavier bow.  I don't think that I could ever have imagined how much pride and self-accomplishment I would feel for being allowed to exercise harder.
Kyudou as a whole has served as a catharsis during my months in Japan.  This was my first time abroad, and the experience has been wonderful, but trying at times.  As I've become more aware of my linguistic inabilities, I've found myself losing self-confidence very rapidly; however, kyudou is an activity that almost entirely transcends the language barrier.  In addition, because there are other students who do not speak Japanese at all, I've gained some confidence in being able to translate between Kawaguchi-sensei and those students.  Furthermore, it is a time apart from homework where one focuses only on the ritual of drawing the bow and one's own body.
Kyudou is definitely a CIP that requires time and effort, but the rewards far outweighed any measly inconveniences.  The support that I felt from Kawaguchi-sensei and the other archers, the atmosphere of the dojo, and the time for self-reflection not only helped rebuild and boost my self-confidence but also allowed me some peaceful time in my continuously active life in Japan.