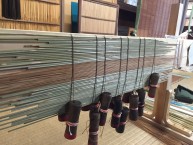 This semester for my Community Involvement Project, I have been working with the Kubotas, a family of Kyoto artisans who make sudare screens for private homes and temples. Once a week, I go to their shop near Shijo, where I learn about the craft of sudare making and, through conversations with the artisans themselves, about life as an artisan in one of the most historical cities in the world.
One of the things that has stood out most clearly to me through working with the Kubotas is how closely their line of work connects them with traditional culture of Japan. In a country as modernized as Japan, it can be difficult sometimes to find traces of the culture's long and rich history. When I've asked Japanese friends about their exposure to some of the most known traditional elements of Japanese culture—the kinds of traditional elements like shodo calligraphy and sado tea ceremony that are often presented to foreigners during cultural exchange events—their responses are largely of non-interest. For the artisans of Kyoto, however, this is not the case. The very nature of their work forces them to confront the divide between traditional and modern lifestyles in Japan on a daily basis. And as a result of this, they often find themselves exploring other aspects of traditional culture, aspects that have no connection to their particular craft.
Through working with the Kubotas on my own sudare, through talking with them as I bound the bamboo together strip-by-strip with twisting threads, I found that our conversations often tended to drift to this topic. Over a cup of matcha tea one week, we wound up talking about the tradition of the tea ceremony, something that I had been asked to participate in for cultural exchange events many times but still knew next to nothing about. When I mentioned this, Shinji Kubota, the oldest son and next in line to inherit the family business, began to tell me about how working as an artisan had inspired him to study tea ceremony. Although most Japanese had very little interest in the ceremony, had never even experienced one themselves, he found the ceremony beautiful and has been studying it for many years. Mayu, Shinji's younger sister, also mentioned how central their background as traditional artisans was in sparking their shared interest in the ceremony.
When I came in the next week, I found the tatami room cleared and prepared for a tea ceremony. A piece of calligraphy hung in the tokonoma, beneath which sat a flower arrangement. Water boiled away in a kettle over the fire of the sunken ro hearth. Shinji and Mayu took me through the ceremony, explaining how every proper tea ceremony had a theme, which the host decided upon and would then carefully select each utensil to match. Through inquiring about the particular calligraphy piece hanging in the tokonoma, for example, you would be able to work your way through the various connections it shared with the other utensils of the ceremony. This ability to appreciate details is one of the most important elements of the ceremony.
The care with which Shinji and Mayu then walked me through the ceremony was truly amazing. It was clear how much they respected the ceremony's tradition, how much they wanted to do justice to its history. Which of course connects to the way they treated their own craft as well. Throughout this whole semester, I have noticed lots of very tiny ways in which the Kubotas honor the history and tradition of their craft. They explained to me, for example, how the natural darkening of bamboo material over time is something beautiful, something worth noticing and appreciating. Which I don't think is something I would have thought about in that way before.
My time with the Kubotas this semester has broadened my understanding of traditional Japanese culture as it exists in the modern age. Through making my own sudare, I have come to appreciate the incredible level of craftsmanship that goes into the making and maintaining of these traditional crafts. And through exploring the connections that exist between those who are continuing Japan's craft tradition and those who are carrying on other aspects of the traditional culture, I have come to see the degree to which these traditions are still very much alive, still being constantly innovated.