Home > News > Field trip to Yoshida Shrine
News
Tue. Mar. 17. 2020

Field trip to Yoshida Shrine

February 20, 2020 : Field trip to Yoshida Shrine

Below is a report by Nathan Koike (Hamilton College).

Professor Adam Lyons lead our religion class on a field trip to Yoshida Shrine. He explained the significance of the shrine and answered any questions we had. I had never taken a religion class before this, and having someone to guide me through the different Buddhist temples and Shinto shrines, like this one, makes the experience much more valuable for me; not only did we get to learn about cultures and practices with which we might not have been familiar, but we also got a personal tour from someone whose expertise and passion lies in a field very intimately related to Japanese culture. This is someplace I would never have thought to go by myself, and the opportunity to explore Kyoto in a way that also provides an education I cannot receive anywhere else in the world is something truly special to me.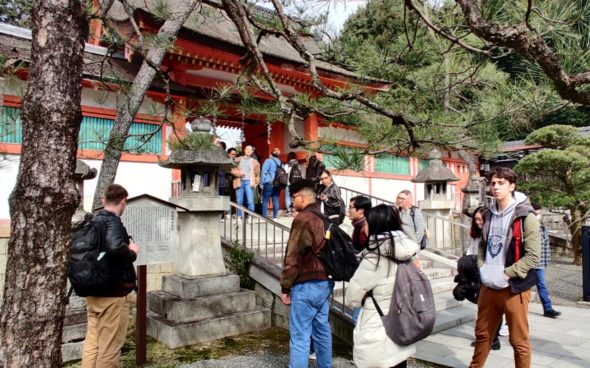 Professor Adam Lyons reads and translates the Japanese description on a sign, as students explore deeper within the shrine and its surroundings; students learn about the significance of the shrine and its role in shaping Shintoism, as it is practiced today.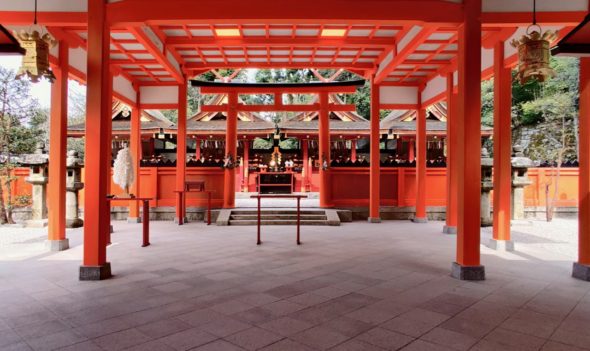 Inside the main body of the shrine, sunlight shines off the gilded talismans and adornments. Nature surrounds the shrine, and the vibrant green contrasts the warmth of the orange wood within.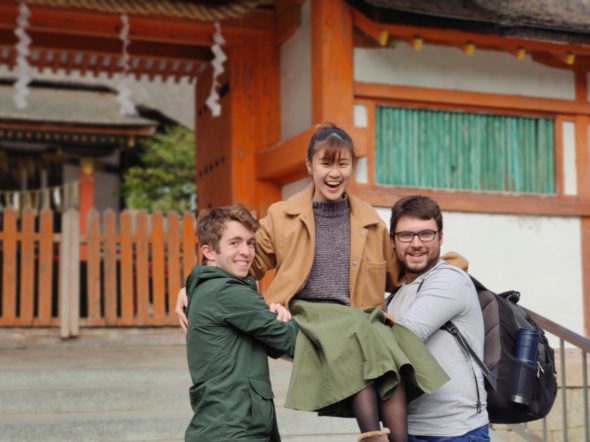 Peter Gilbert (left Boston University) and Christof Ketchmark (right Boston University) carry Jannel Lin (middle Boston University) in front of the Yoshida Shrine, located near Kyoto University.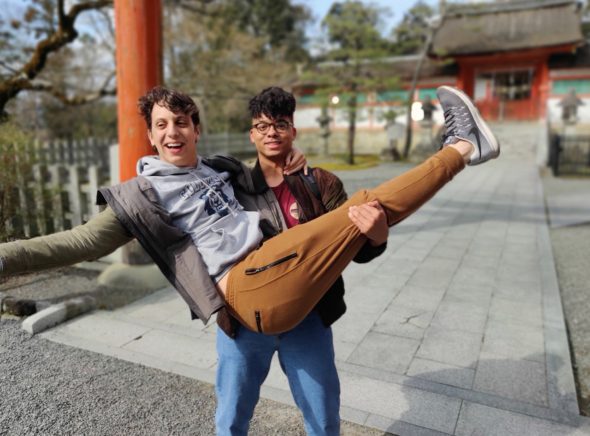 Nnamdi Eze (Vassar College) lifts Zachary Armine-Klein (Collumbia College) in front of one of the torii, the so-called "gates" that signify the presence of a Shinto shrine instead of a Buddhist temple.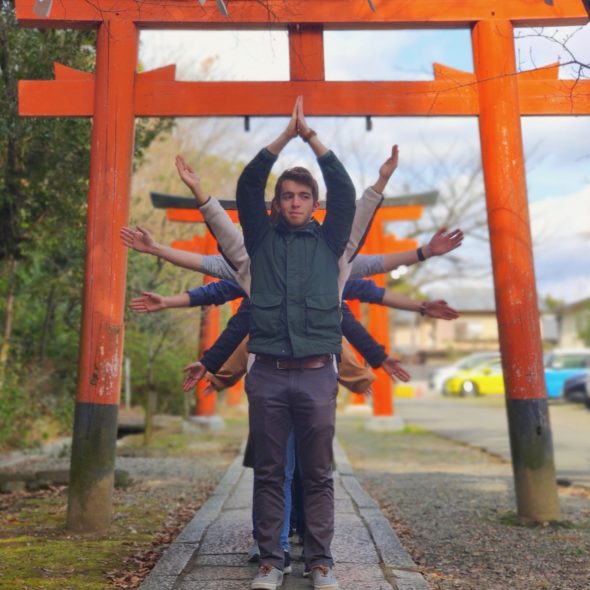 In order from front to back, students Peter Gilbert (Boston University), Christine Ahn (Cornell University), Christof Ketchmark (Boston University), David Massart (Tufts University), Kat Stewart (Boston University), and Jannel Lin (Boston University) pose before a path lined by torii.