Coming into KCJS, I didn't have a CIP in mind, and honestly, I was a little lost. My clubs and activities at Tufts didn't quite translate to a circle I could join at Doshisha nor did I have experience in a sport of performing art. I bounced between Bazaar Café, calligraphy, a cooking school, and a hiking circle. Eventually, I settled on yoga at Tamisa Yoga and the Kyoto Cooking Circle ー two of the best decisions I made during my time here.
Tamisa Yoga is located on the popular shopping street Teramachi, about a 20 minute bus ride from Doshisha. The street's hustle and bustle, with tourists and locals alike, is a refreshing contrast to the serene atmosphere inside the studio. While I did not have extensive experience before taking classes at Tamisa Yoga, I chose yoga because I was looking for a way to destress and relax. I began by testing out a few different classes to see which style I preferred, eventually settling on Rusie Dutton with Asako-sensei. If you end up choosing yoga as your CIP, I suggest attending the same class every week, so you can develop a relationship with the teacher and also familiarize yourself with the teacher's routine. Because let me tell you, holding a yoga pose, mentally interpreting yoga instructions in Japanese, and simultaneously trying very hard to not make a fool of yourself, is extremely difficult! After a relaxing class, chatting with Asako-sensei is often the highlight of my day. My friendship with her is definitely part of the reason why I return every week, even after a long day of school.
I supplemented yoga with monthly classes at Kyoto Cooking Circle. While called a "circle," Kyoto Cooking Circle is not your typical サークル affiliated with a university ー it is actually a class offered to the public at a local community center. Kyoto Cooking Circle also provides me a steady community within Kyoto ー I only wish it was offered more often! From the staff to the regulars that return every month, everyone is kind, accommodating, and excited about food. In the three classes I attended we made okonomiyaki, fall 和食, and nabe. After preparing the meal, we share what we've made over tea and conversation.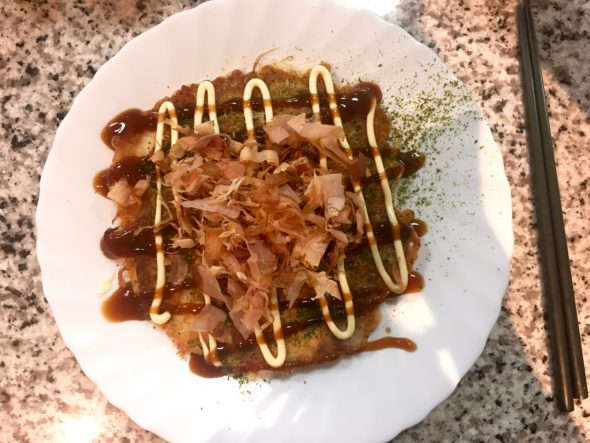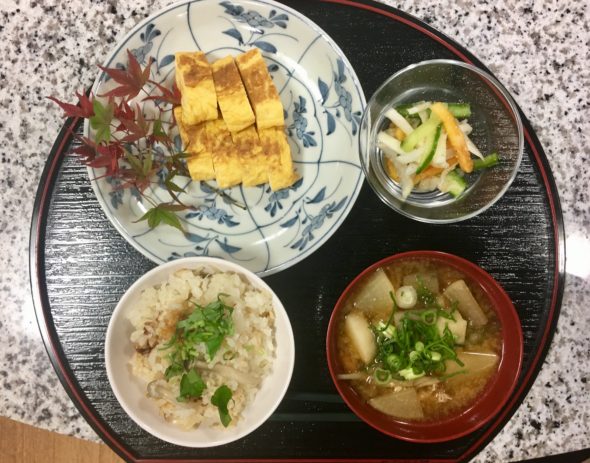 Links: 
Emailing is not necessary in signing up with Tamisa Yoga. Your first time visiting, attend the class of your choice and pay for your pass then.
Facebook is the best way to find out and sign up for upcoming Kyoto Cooking Circle events. Make sure to fill out the form!