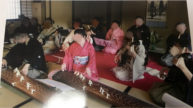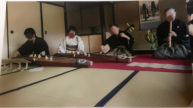 During the course of learning Shamisen, not only did I learn how to play this classical Japanese instrument, but also did I know more about how Japanese people greet each other and treat people of different relations with varied ways.
Every time Okada-san(one of the fellow students) or Iwasaki sensei came back from a trip, they would buy us souvenirs such as Taiwan okashi or cookies from Hokkaido. For easier distribution, the souvenirs always have dozens of small packages within the large box. Sometimes Okada-san would show us pictures from some events. Personally speaking, it's really a good tradition to bring stuff for friends or co-workers from a trip. It's always a good thing to share the happiness with other people of a journey. And it also surprise me how considerate Japanese people are that they would remember to buy the right the amount and size of gifts so as not to bother people.
I'm also glad to have the opportunity to attend Okada-san's graduation recital. It's in a Japanese style room in a beautiful building complex. All the performers were wearing Kimono and sitting on their knees. For the first time that I experienced the Japanese performing culture in real. I was told by Nakamura-sensei that everyone should at least behave properly, although the audiences are not necessarily required to sit on their knees, it's important to mind your behavior and keep quiet during the performance. At the break time, Iwasaki-sensei had prepared Japanese Matcha and okashi for all the people present. It's really a great tradition to always treat your customers nicely.
All the beautiful songs that had been played have gentle and intriguing rhythms which are different from what I have ever heard before in modern music.
After experiencing how nicely and neatly Japanese people treat each other and how this kind of culture affect their way of being, I really appreciate this great opportunity of doing CIP and learning new skills and traditions in this country.