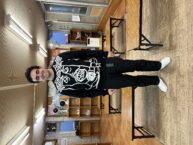 Every Wednesday I went to Nishijin after-school center from 3-5pm and helped look after the children ranging from 6-10 years old. The volunteering consists of always engaging with the children and ideally forming relationships with them throughout the semester to create a fun environment for everyone.
The staff will usually speak close to zero english, but they are all kind and patient towards any questions or problems you may have. Additionally, despite the language and cultural differences, most of the children will want to seek you out so there will be times when it could get overwhelming but over time it becomes more manageable.
My biggest piece of advice is don't be afraid to interact with the kids! Use your Japanese skills, whatever level it may be, to engage with the kids and they will give the same energy back.